Well I guess the shear numbers and pictures of the exact same cars over and over again will explain this madness. We all have this sickness in our heads that limits our view to the Volkswagen Scirocco as the ultimate affordable sports car.


Above is a picture of my current 16v Scirocco. I am trying my best to go with the monochromatic scheme of black on black. Hopefully at some point I will change the color of this car to a reflective silver. My first 16v Scirocco was flash silver. I loved the color even though I thought it had too much of a champagne look to it.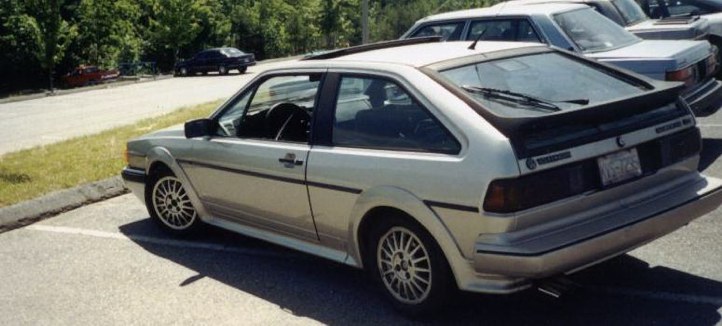 This was my first 16v Scirocco. It sadly met it's end at the end of October 1999. This car was in the process of being transformed into a one of a kind beast. I mounted an Audi 4000 big front bumper onto it, it had just gotten a new rear euro bumper, Bilstein shocks and struts, HOR tech springs, polyurethane motor mounts and suspension bushings, and a Flowmaster dual chamber muffler. The car had complete leather interior which was almost pristine. I hated to see this car meet it's end, but I do believe that I have found a suitable replacement for it.


This is my current 16v Scirocco. It has served me well since November 1999. I made a trek from Asheville NC to Phoenixville PA in two days to pick up this car. The car was in need of some TLC but with a little time and patience I have improved it. Some of the modifications that are on the car are as follows: 16" Team Loco wheels with Yokohama A520 tires (205/40 R-16), Bilstein sport shocks and struts, HOR Tech springs, Konig race seats, leather rear seats, Eurosport upper strut tower brace and rear brace, 2.5" exhaust, single chamber Flowmaster with black powdercoated oval exhaust tip, powdercoated intake manifold and valve cover, powdercoated pedals with grip tape pads, euro bumpers, euro lights, clear euro turn signals with amber inserts removed, and polyurethane engine mounts and suspension bushings.